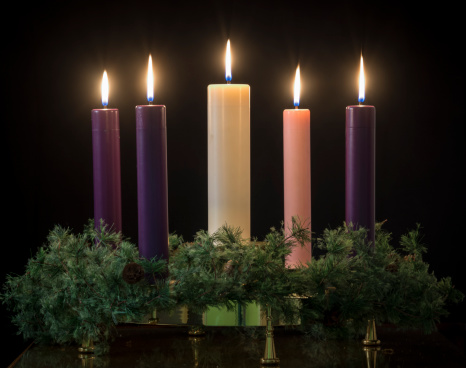 The church in Beddgelert dates from the early 13th Century but the religious community here reaches back to much earlier Celtic Christian times. It is a peaceful spot beside the Glaslyn river and glowed in the late November sunshine yesterday afternoon when a small group of us joined the congregation there for carols and readings which were sung and read in both Welsh and English, accompanied by the sonorous tones of the organ. At the end of the main aisle stood the Advent wreath with its different coloured candles, one for each Sunday before Christmas and the fifth white candle to be lit on Christmas Day.
There is something very special about old churches, as if their very stones have absorbed the love and devotion of the countless previous generations who have prayed their and now, like a charged battery, give back the courage, strength and love of our forebears. As always, the sounds and cadence of my Celtic mother tongue which I do not understand, nevertheless resonated deeply with me and for a brief time brought me directly into contact with my Welsh ancestors. Fancifully, I could hear their voices, and felt at one with them as the Earth once again approaches the Midwinter Solstice and the time of Christmas celebration.
These days I do not often spend time in a church and as the afternoon progressed I gradually became aware that my seat was growing warm and then positively hot. Am I unwell? I asked myself. I removed my glove and placed my hand on the pew seat next to me. Yes, that was warm too! Old churches can be very cold places, especially at this time of the year, but this marvellous building actually has heated seats.
The notes of the last carol died away and then afternoon tea was laid out for us at little tables in the North Transept where we all sat down to enjoy plates piled high with dainty sandwiches, dishes of scones, jam and cream, and cake stands loaded with sweet delicacies. We ate and drank from bone china plates and cups and happy chatter filled the room while willing helpers cheerfully passed among us wielding a seemingly endless supply of scalding hot tea and coffee.
It was also a delight for me because I now met again so many of the ladies who I have come to know over the past few months when I have visited the village to give talks and workshops. Continually waylaid by by warm greetings and hugs from so many, I never got to actually look at the little sale of bric-a-brac and gifts which were on display in the aisle – although I did manage to purchase two adorable knitted festive mice which are now sitting companionably on my mantlepiece. I later learned that the afternoon had raised over £220 for church funds.
The sun was beginning to set as we drove home past Snowdon and through the mountain pass at Drws y Coed, back down towards the sea. What a magical afternoon it had been, and how very much I had enjoyed it. Who needs lots of glitz and excitement? I can get just as much joy from songs in a language I cannot understand, loving welcome from new friends, teatime goodies and, oh, yes… a warm bum!